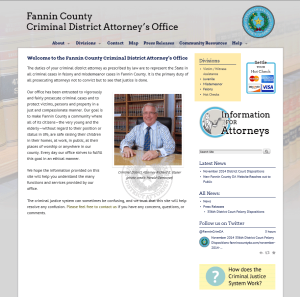 Fannin County District Attorney Richard Glaser and his team announce the launch of a new online resource for County residents at FanninCountyDA.com.
The purpose of the website is to help the public navigate the criminal justice system and work with the DA's office to prevent and solve crimes.
The website enables the public to interface with the DA's office whenever it's convenient for the public. For example, merchants can learn about how to prevent hot checks, and download all of the information they need to collect on hot checks and press charges if necessary. People who are responsible for hot checks can make a payment to settle their hot checks online 24/7.
Defense Attorneys will find easy access to DA procedures and can download the forms necessary to obtain information from the County.
In addition, the website pulls together community resources that support victims of crime, help people to locate records, and help them access social services.
The DA's office is also on Twitter at @FanninCrimDA.