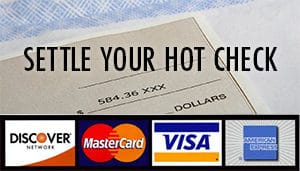 The Fannin County Criminal District Attorney's Office accepts Debit/Credit Card payments online to settle Hot Checks. If you would not like to pay online please contact our office at 903-583-7448 to settle your hot check.
You will need to know the following before proceeding with your payment:
1. Amount that you need to pay.
2. Check ID number
3. Your payment method (Visa, Mastercard, American Express, Discover)
Be sure to record the confirmation number when your payment has been accepted by Certified Payments. 
Click here to pay online now
The above link will open a new window at our payment processor, Certified Payments: "Fannin County, TX District Attorney HCD Web."
Please note:
A 3% Convenience Fee is charged.
Payment will not be processed until the next business day. If there is a warrant for your arrest, it will not be recalled until the day the payment is posted.
---
More Hot Check Information