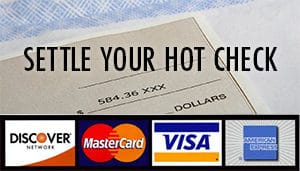 The Fannin County Criminal District Attorney's Office accepts Debit/Credit Card payments online to settle Hot Checks. If you would not like to pay online please contact our office at 903-583-7448 to settle your hot check.
You will need to know the following before proceeding with your payment:
1. Amount that you need to pay.
2. Check ID number
3. Bureau Code: 6716143
Be sure to record the confirmation number when your payment has been accepted by Certified Payments. 
Click here to pay online now
(The above link will open a new window at our payment processor, Certified Payments)
Please note:
A 3% Convenience Fee is charged.
Payment will not be processed until the next business day. If there is a warrant for your arrest, it will not be recalled until the day the payment is posted.
---
More Hot Check Information
Hot Check overview and forms
[sibling-pages depth="2″ sort_column="post_title" exclude_current_page="1″]